Manufacturing News! New Technology Results in New Capabilities
Established in 1992, Baker Aerospace Tooling & Machining, Inc. has held fast through growth periods and recessions alike to a rigorous and straightforward philosophy - continue investing in new technology. Capping what founders Scott and Kevin Baker are calling a "defining year," the company with 200+ employees and 220,000 sq. ft. spanning four plants is announcing a new investment in 3-D metal printing production equipment and expertise.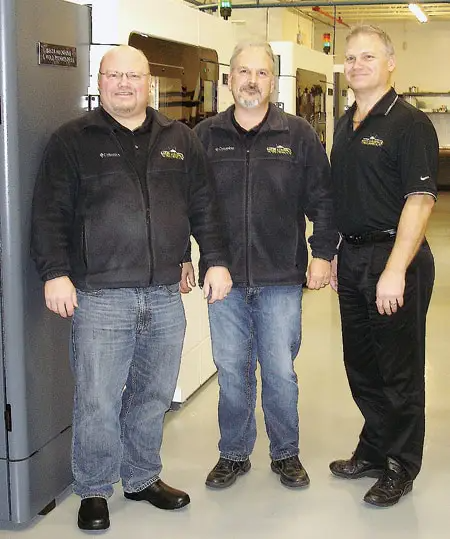 Baker Aerospace founders Scott (left) and Kevin Baker (right) with new Additive and Molding Tooling Director Mike Misener in the company's 3-D printing lab.
Specifically, the company has taken delivery of two M 290 direct metal printing systems from German company EOS (with North American offices in Novi, MI) along with newly hired Additive Manufacturing Director Mike Misener, who already sees growth for the company in this technology.
"Three-dimensional metal printing is redefining part processing and production efficiencies in a number of industries we are already serving, like aerospace, aircraft, defense, automotive, medical, power generation and mold tooling," said Misener. "The impact for our customers will be positive and immediate, and more will follow."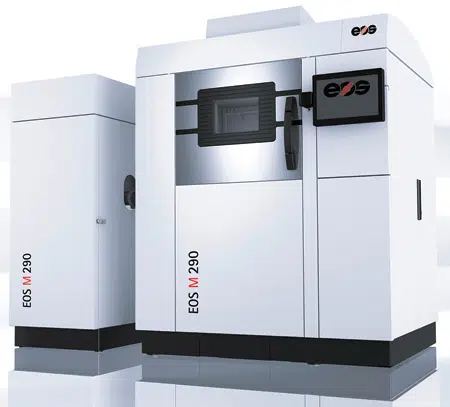 A Technology Bridge
"We have always considered ourselves leaders in bringing technology to our customers," said company President Kevin Baker, who along with his brother Scott founded Baker Aerospace Tooling & Machining, Inc. With a foundation in manual metalworking, the company was one of the first in its area to embrace 5-axis CNC, simultaneous multi-axis milling and 3-D surface processing. "Our customers have always expected us to be at the top of new technology," he added.
Both company founders confirm that they had been investigating 3-D metal printing for the last few years and decided the technology has progressed enough to where it has the most value for Baker customers. Specializing in complex, CNC-machined parts, Baker Machining believes 3-D metal printing holds promise for unconstrained new thinking for design improvements and parts that cannot be made any other way.
"The way we look at it, with our 5-axis machining, we can make the part look like anything the customer wants on the outside," said Scott Baker. "With 3-D metal printing, with building a part layer by layer, we can add blind holes, hidden pockets or nearly anything the customer wants on the inside."
Three-dimensional metal printing technology is changing the way companies like Baker design and manufacture components. Lasers on the EOS machines melt and fuse metal powder into layers, each 20 to 40 microns thick, built on top of one another until the entire component is completed. This technique allows Baker to manufacture complex components with internal structures and features that not only would be very difficult, if not impossible, to make using conventional methods, but also in some cases faster and with fewer raw materials and tools. Not only does industrial 3-D printing reduce customers' design and tooling costs, its capacity to create products with complex geometries results in lighter goods that use fewer resources. In industries such as aerospace, where weight saving is critical, this can mean substantial energy savings and operational cost savings over product lifetimes.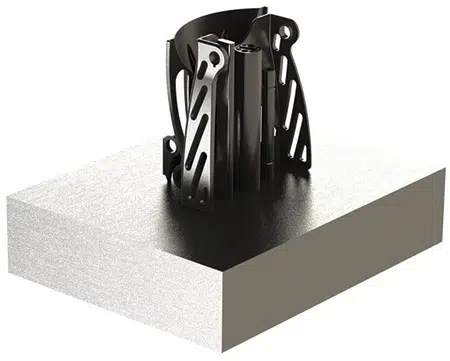 A titanium seat belt buckle for airplanes shows the type of parts capable of 3-D metal printing.
Conformal cooling inserts for injection molds are another example. Conventional mold building uses straight water lines, but the part design might include such challenges as thin walls, intricate curves or tight tolerances. In such cases, uneven cooling adds warp, sinks and other problems that need fixing. "Building 3-D-printed metal inserts allows internal cooling lines to closely conform to part dimensions," said Misener. "By eliminating hot spots, cooling cycles are cut dramatically. Molds run faster, last longer and produce more quality parts. That is only one example where 3-D metal printing is changing the business."
Equipment Specifics
Baker's EOS M 290 machines each have a build volume of 250 x 250 x 325 mm for printing metal parts directly from CAD data. Each uses a 400-watt fiber laser that combines high beam quality with performance stability. The M 290 builds parts in nitrogen as well as argon atmospheres, meaning the system can process a wide range of metal powders, from tool steels to superalloys. A recirculating filter system with automated self-cleaning contributes to easier maintenance and long service life. A touchscreen graphical user interface provides easy-to-learn, task-based machine operation.
Baker executives stress that 3-D metal printing enhances and optimizes conventional manufacturing, not replaces it. "There have always been chips on the floor here," added Scott Baker. "Through the blending of these technologies we have proven through our FDM (fused-deposition modeling) and 5-axis milling technologies that it takes both additive and subtractive manufacturing to make customers successful. In FDM, we bought our first machine and quickly added it to it our previously purchased five plastic printers, with more to be added in 2016. We forecast similar results going forward for our metal printing."
With an operating philosophy of continued technology investment backed by a 20-plus year track record of growth, the company expects many innovations to follow from its Baker 3-D Solutions Division for its customers.