Before touring Baker's four plants, Hackel and his team sat down with Baker's executive board to discuss current industry trends and apprehensions, in an effort to uncover ways in which the county could improve its role in supporting local manufacturers.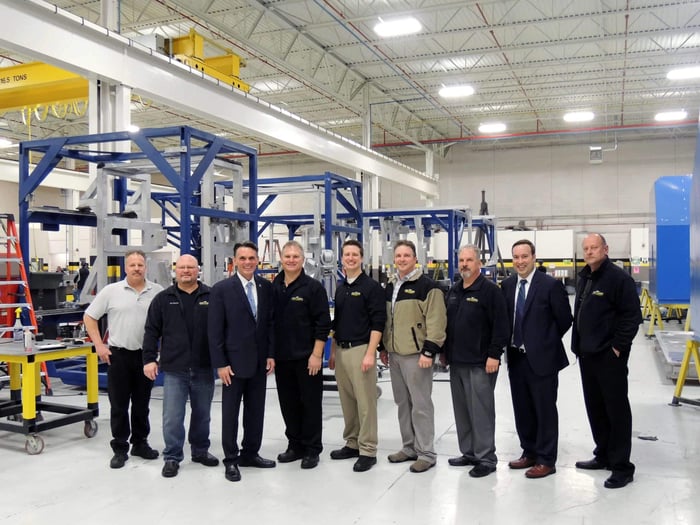 The industry as a whole has struggled to acquire young workers willing to carry on the next generation of skilled laborers; However, the recent excitement surrounding additive manufacturing (3D printing), has started to fasten the attention of technologically advanced millennials.
In an effort to stay relevant in an ever-changing landscape, Baker recently purchased five 3D plastic printers and two 3d metal printers. These machines have allowed them to enhance their core business, by combining the use of 3D printing and 5-axis milling to make hybrid components and tooling, enabling the company to recognize the most effective and efficient way of creating unique geometries. Baker executives stress that 3D printing enhances and optimizes conventional manufacturing, not replaces it.
"As these new technologies begin to emerge, we hope more young people will take an interest in what promises to be a successful career in manufacturing. The industry has changed immensely, and we are so grateful to have always managed to evolve with it," said CEO Kevin Baker.
Baker Aerospace has been established for 24 years, and is still privately owned by brothers Kevin and Scott Baker. They are a shining example of the opportunity that still exists, and continues to cultivate in manufacturing today. Their business began in 1992 with only 2,100 square feet and three employees; today they operate within 218,000 square feet, and employ over 200 local Michigan residents. Since their inception, they have made the tough, but commendable choice not to outsource their work, which in turn has enabled them to make a substantial impact on Macomb's and Michigan's economy as a whole.
"I really enjoyed my recent visit to Baker Aerospace, said County Executive Mark A. Hackel. "It is easy to see how they have become a global leader in supplying 3D components based on the many employees I met who obviously have great pride in the work they do."
Beyond its efforts to remain technologically advanced to attract talent to its workforce, Baker Aerospace has partnered with the county on several initiatives to generate greater awareness of their company and their commitment to our community. They hosted high school students for the countywide celebration of MFG Day in October 2015 and will participate again on October 7. They continue to be a major sponsor for the annual Sprint & Splash Races at Lake St. Clair Metropark on June 5, and have also committed to a corporate sponsorship of Macomb Township Parks and Recreation Department.