Virtually No Limits
With 38 versatile CNC machines on the roster already, the PowerMill was primarily purchased for the machining of large-scale assembly tools, bond tools, and other colossal components. The open structure of the machine's moving gantry allows for more convenient loading and handling of these very large tools. The spacious 52' x 20' x 10' envelope is large enough to fit seven full-size SUVs or two semi-truck trailers on its platform. This unique design enables Baker to process parts up to a maximum weight of 2.6 million pounds on the stationary table. In other words, the PowerMill is only limited by the size of the job.
Major Large-Scale 5-Axis Machining Power and Versatility
The new 5-axis machine will come equipped with several automatically changing heads that allow for universal direction machining. In addition to the sizable 14-meter (46 feet) X-axis travel, the PowerMill offers travel of 6 meters (20 feet) in the Y-axis and 2.5 meters (8 feet) of travel in the Z-axis. In order to maximize productivity, the new PowerMill speeds around the work area with rapid travel and feed rates of 30m/min.
Aside from the flexibility, capacity, and high-speed functionality, the new PowerMill delivers an unprecedented level of rigidity and machining performance, which is ideal for the heavy-duty cutting of invar, steel, aluminum, cast iron, composites, and other alloys that are generally difficult to machine on a large scale. The heavy-duty machining potential of the new PowerMill is exemplified by the unique bifurcated cross rail with ram and saddle riding, and guiding inside the cross rail. This is complemented by a 6,000 rpm (42 kW) main spindle motor that has a torque output of 1200 Nm, which retains exceptional power output throughout the complete speed range.
Working in synergy with the spindle motor is a CAT50, HSK63, and HSK100 spindle taper that accommodates large cutting tools. The spindle nose is supplied tools via an automatic tool changing system that gives Baker Industries the capacity to process a complete variety of jobs with minimum set-up time.
From Rough to Finish
The PowerMill is capable of taking each job from rough to finish, all on one machine. For the machining of large components and tools up to and beyond 16 meters, this will provide paramount precision, repeatability, and overall lead times.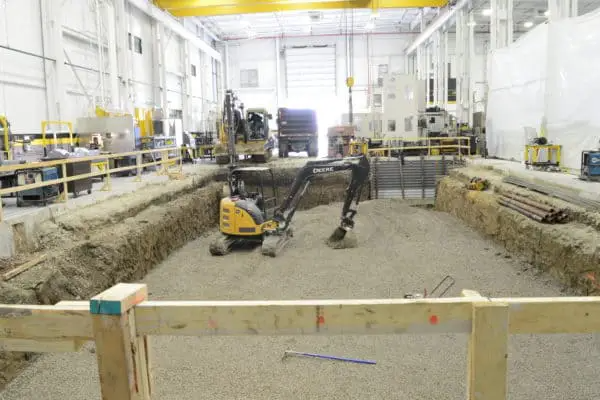 Building a Strong Foundation
To prepare for a machine of this size and stature, Baker began construction on the site in mid-June. They removed approximately 436,000 pounds of 10-inch thick concrete in 4' x 4' sections. The total excavation of the 45' x 75' x 7' pit, including concrete and 450 yards of clay, weighed close to 1.2 million pounds.
Once the contents of the pit were removed, roughly 1.94 million pounds of crushed stone and concrete were poured into the pit, spread, and tamped down. All concrete was poured within the same day to eliminate any seams in the foundation; nearly 60,000 pounds of steel reinforcement framework was also added to support the structure.
Including construction, the company's total financial investment for this acquisition is $3.4M. According to Baker Industries President, Kevin Baker, "Our willingness to proactively make investments to support our customer's needs, has allowed us to achieve continuous growth year after year. The PowerMill is just one of many investments that we have made in 2017 and will continue to make in years to come."
To speak with a team member about machine availability, get in touch with us today!