Baker Industries has a 55,000 sq. ft. facility dedicated to our fabrication operations. This plant has a bay height of 28' and a max hook height of 22'6" allowing massive structures to be fabricated in a climate controlled environment. Throughout Plant 2 we have start to finish tool processing that includes high quality GMAW (gas metal arc welding) and GTAW (gas tungsten arc welding). All projects are examined by one of our Certified Welding Inspectors before heading to our assembly and build department.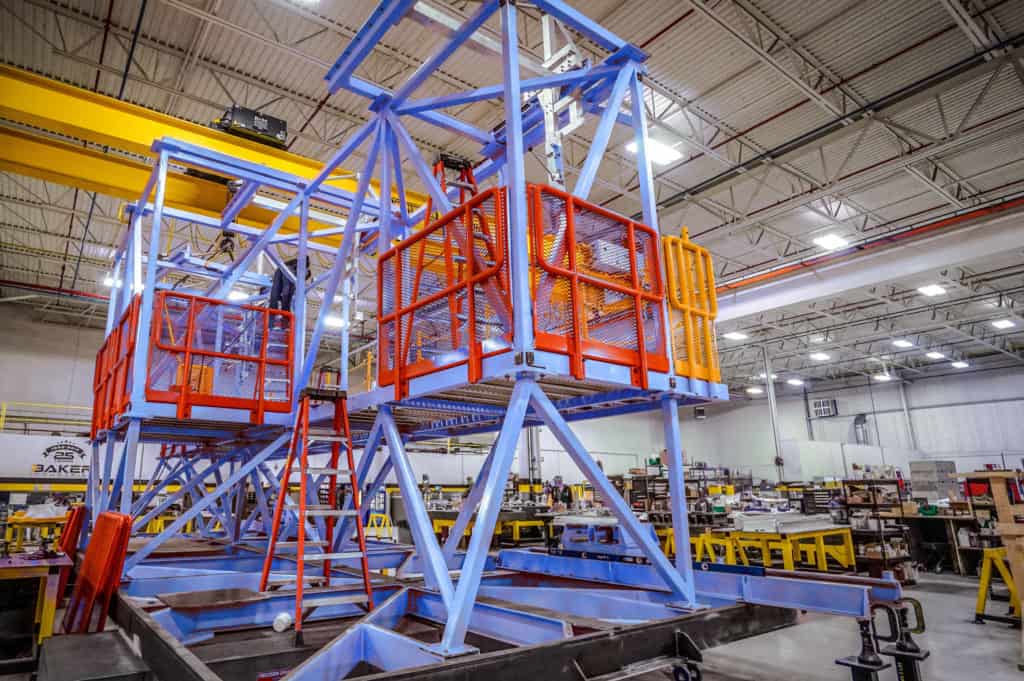 Our Staff
(5) AWS QC1 CWI staff members
AWS CWI/CWS Fabrication Manager
Day and night shift
GMAW and GTAW Materials
Aluminum
Brass
Bronze
Copper
Corten®
Galvanized steel
Galvannealed steel
Invar®
Iron
Magnesium
Nickel
Nickel-based alloys (Inconel®)
Stainless steel
Steel
Titanium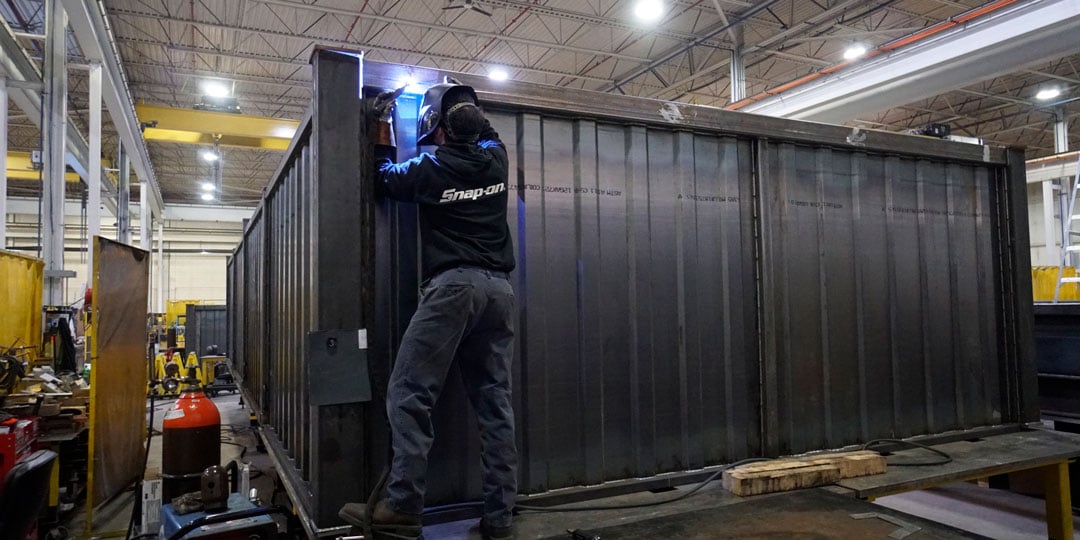 Fabrication Equipment
(20) MIG welders
(20) TIG welders
(1) Stick welder
750-ton hydraulic brake press
5-axis waterjet
Plasma cutters
Fabrication Services
Fabrication/welding
Assembly
Tool and fixture build
Start-to-finish tool processing
Non-destructive testing
Stress relief
Vibratory stress relief
Annealing
Normalizing
Hardening
Finishing
Weld Procedures and Performance Qualifications
AWS D1.1
AWS D1.2
AWS D1.3
AWS D1.6
AWS D17.1
AWS B2.1
BAC5975 (Boeing)
Plate and Tubular Weldments of Various Metals
Can qualify to any code, including AWS D17.1!
Fab Team Specialties
Architectural and ornamental fabrications
Assemblies and fixtures
Bases and carts
Bond tools
Containers
Handling equipment
Ladders
Large components and structures
Layup tools
Light structural fabrications
Mezzanines
Precision fabrications
Scaffolding
Sculptural and artistic fabrications
Tooling weldments
Transportation dollies
Work platforms
Much more upon request!
Fabrication Testimonials
"I've audited shops all across the U.S., and I would consider Baker to be one of the top 4 shops in the country. It is very rare for a company to pass our fabrication audit on the first try, so I was highly impressed when Baker not only passed but exceeded our expectations. Their team is well organized and their fab job traveler is one of the best I've seen."

- Aerospace OEM Auditor
"In my 27 plus years of being associated with Tooling Work Transfer, this tool is one of the nicest Core Form and Trim tools we have ever received from a supplier. The face sheet forming, welding, machining, benching, and ID look great. You also delivered the tool ahead of schedule."

- Aerospace Tier 1 Customer
Get in touch with us today to experience Baker Industries' fabrication excellence!