Most companies that embrace additive manufacturing (AM) have AM champions—one or more employees who see the potential of 3D printing and a path forward to the "AM revolution." At Baker Industries, that's Jerry Kablak, a 49-year-old program engineer with a long-standing career in traditional manufacturing, who has really owned the integration of AM into the company's mold tooling business.
Kablak started his manufacturing career in the mid-1980s during high school with wood model making for the automotive industry, which then gradually evolved through the years into designing and fabricating molds and check fixtures. It wasn't until the late 1990s that Kablak was exposed to 3D printing for prototyping purposes, like many others in manufacturing. It was then that he saw the potential of additive manufacturing, but believed it would be several years before the technology advanced enough for precision tooling.
"I saw only limited applications for the tooling side of the business with the technology back then, but as the printing technology improved, I felt it was time to integrate it into traditional tools," Kablak says.
Being Convinced
Kablak came to Baker in 2014 as a program engineer at the same time the company was just entering into additive manufacturing. "My first additive project at Baker was FDM holding fixtures for one of our customers, who forgot all about the tools they needed to check their parts. They had the actual molds produced and parts in hand, but their customer would not approve the parts until they were able to certify them. This entailed holding them in the correct position using a check fixture, which they did not have. On top of that, they were at the end of the project and did not have 6 or 8 weeks to produce traditional fixtures," Kablak says. That's when they contacted Baker for help, who was already working with the customer on the tooling side.
Despite still being a new technology for Baker, its 3D printers were up and running, and in less than a few weeks they came up with concept designs for the complete project for holding fixtures to check the parts, printed them, and certified them for the customer.
At this point, Baker was mainly using its Stratasys Fortus FDM printers to replace tooling and produce prototype and quick one-off parts. However, it wasn't long before the lightbulb went off for Kablak after seeing the first printed parts that were actually made of robust materials (ABS, polycarbonate, Ultem). This "lightbulb moment" involved using FDM to make a "hybrid" check fixture. The main fixture was machined out of aluminum and/or steel and the other components, such as contoured attribute check features, were 3D printed from robust materials, which saved a lot of time. "Then I pushed this concept even further by 3D printing the entire fixture. Eventually, I began to evaluate a majority of new projects with the same AM design mentality, which looks to only grow what is needed while maintaining the structural integrity for the specific application," Kablak says.
"Making a case for AM integration (whenever it makes sense) has now become the standard at Baker. We are always looking to improve the design of parts and tooling components so that they function better for the customer, and quite often the answer is AM," Kablak says.
Kablak References A Few Steps to Take to Truly Embrace Additive Manufacturing
Change Your Design Mindset
When utilizing AM, the design phase requires an expanded mindset with comparison to conventional manufacturing, whether you're making fixtures, molds, or components. Instead of designing for manufacture, AM gives the ability to design for optimal functionality. AM removes all of the common constraints of conventional manufacturing, and truly opens the door to superior tooling.
You need to design things according to how the machine works, how the layering system builds the layers, and how the parts can be made stronger while reducing the amount of material used–whether the part is plastic or metal.
Understand Post-Processing Requirements
You still need post-machining. If a customer just wants to see a part that's relatively close to what they're looking for, you can just print it and give it to them, but other times, especially when tooling is involved, you need machining support. There are still certain tolerances and surface finishes that are not available with 3D printing yet, so you still need some benching, handwork, and machining after printing.
Baker is equipped with machining technology and expertise, so there is not a lot they cannot machine, but there are advantages to additive.
See the Advantages
The company culture must promote design freedom and thinking outside the box. Designers and engineers must be encouraged to consider the advantages of additive and incorporate it from the very beginning.
Kablak pushes designers to see things in the 3D light and to understand that you don't just need square blocks. Baker is looking for different ways to meet the same objective, whether it's holding or molding a part. "You constantly need to exercise your AM brain," Kablak says.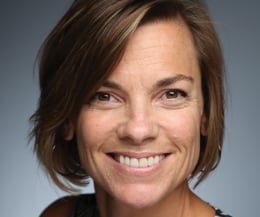 Christina M. Fuges
Christina M. Fuges has 28 years of experience in trade publishing. She has been MoldMaking Technology's Editorial Director for the past 22 years. She was a founding partner of Communication Technologies, Inc. (CTI), which launched the publication and its annual trade show, the MoldMaking Expo (now Amerimold expo). She also was editorial director for CTI's three other trade publications: Time-Compression Technologies, Continuity Insights and Emergency Number Professional. Prior to MMT, Christina was with Witter Publishing as Managing Editor for two critical cleaning publications: Precision Cleaning and Parts Cleaning magazines. MMT was acquired by Gardner Business Media in 2004 where Christina continues to serve as the brand's Editorial Director. She is committed to serving the community via print, digital and social content. She also serves as the Technical Conference Director for the annual Amerimold expo. Christina also is a contributing editor for Additive Manufacturing, which was launched as a supplement to both MoldMaking Technology and sister brand Modern Machine Shop in 2012, but has developed into a stand-alone brand with its own print, digital and social presence as well as conferences throughout the year. Christina has been covering additive manufacturing technologies as they relate to mold and toolmaking since her first encounter with rapid prototyping and rapid tooling back in the late 1990s during the Euromold trade fair in Frankfurt, Germany. Here she discovered a UK-based magazine called Time Compression Technologies. Shortly thereafter CTI acquired the North American version of this publication for which Christina was the editor. Christina's passion is building community within the audiences her publications serve by providing relevant print, digital and conference content focused on both technology and business issues, while working cooperatively with technology suppliers, mold builders, industry associations and educational facilities. She is the current secretary for the Society of Plastics Engineers Mold Technologies Division, which exists to foster growth in the moldmaking and design profession by encouraging the training of moldmakers at the apprentice level, supporting the continuing development of established moldmakers, and by gathering and exchanging information on materials and mold performance. Christina also works with other moldmaking trade associations, such as the American Mold Builders Association and PLASTICS, on special projects such as the MoldMaking Matters educational video series. Christina moderates panels and speaks at industry trade events on workforce development, mold manufacturing, and the brand's annual Leadtime Leaders Awards program. Christina uses various media outlets to help educate her audience, including industrial video projects that highlight shop innovations, and guest spots on IMTSTV for IMTS, and Plastics TV on the NPE Network to discuss moldmaking trends and technology. She also co-hosts The Manufacturing Alliance podcast to share the stories of mold builders across North America who have helped to build the mold manufacturing industry. Kula Partners interviewed Christina for their Kula Ring podcast on how she uses podcasts to share stories and personal connections to break down the brand barrier. Christina received her bachelor's degree in telecommunications from Wilkes University in Wilkes-Barre, Pennsylvania. Christina lives outside of Philadelphia with her husband and son who are all active within their church, school and local community. When she's not working, she spends time raising awareness for Williams Syndrome, which is a genetic disorder her son has. Christina also enjoys being outdoors, day-hiking, fast-walking, cruising back roads in her Jeep, binge-watching original Netflix series, and planning family events. She loves music, the sun, and relaxing by water or on a beach.